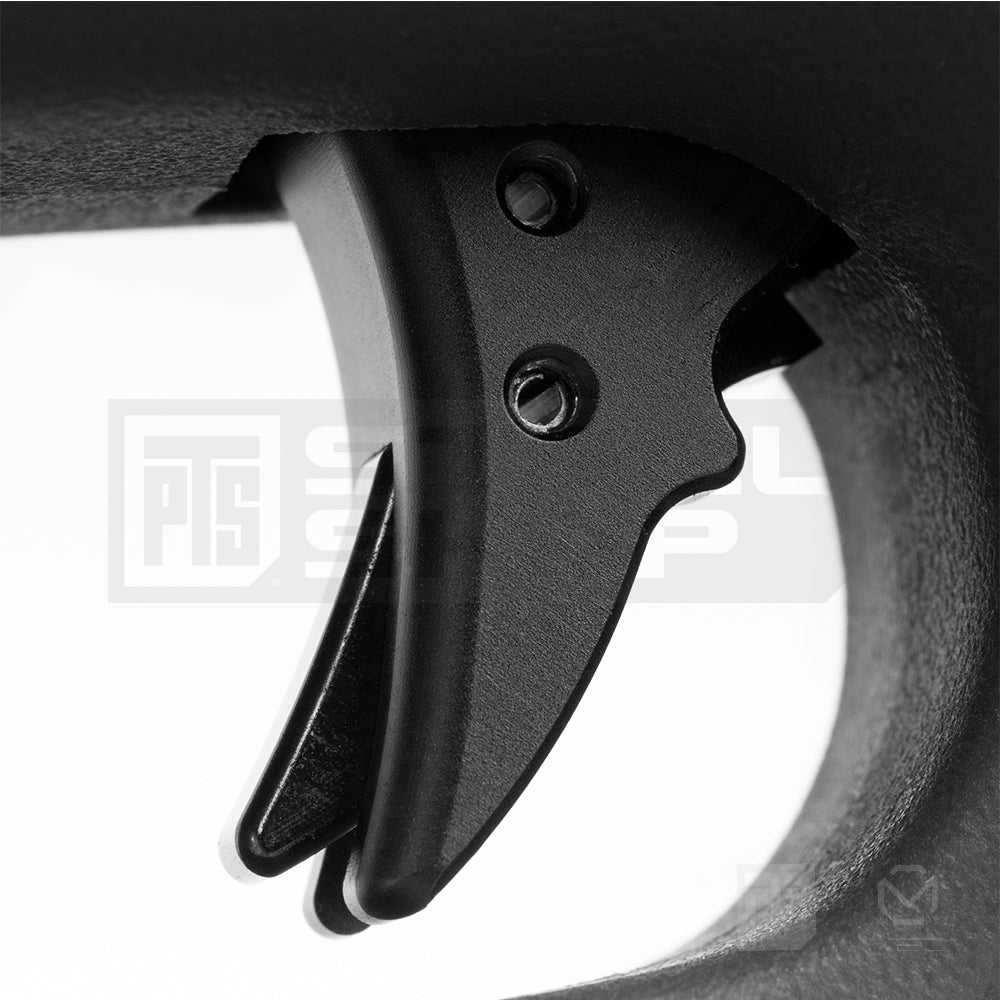 Custom Gun - MEC x PTS ZEV Prizefighter
SKU: ZV902680307
---
About PTS Zev Prizefighter Slide Kit
The Prizefighter adds dramatic cut windows for the competitive shooter who wants to add a more aggressive look at their pistol. The geometric style and design of the Prizefighter gives your airsoft guns an aesthetic edge to match the enthusiasm you have for shooting. This signature slide selection is best suited for standard range and competition use.

PTS Zev slides are precision machined from 6000 series aluminum and designed for the TM G17 platform. It may also fit WE and KJ G17s with some slight modification (please consult a professional airsoft technician for installation). There is a choice of 2 different red dot sight configurations ::one for the Trijicon RMR and one for the Leupold DP-PRO).

About MEC M-Valve
The MEC M-Valve which can manage to increase gas efficiency. Constructed by high strength brass, it also minimizes the gas loss to fasten the entire cycling. Performance is more significant with steel slide pistol.

MEC Custom:
The MEC x PTS ZEV G17 Custom is equipped with the PTS Zev Prizefighter Slide Kit which comes with an RMR cut that lets you fit a Trijicon RMR. The frame of the TM G17 (Gen 3) is highly modified with fully textured handguard provides superior grip and traction. The high-strength brass constructed MEC M-Valve is also installed for providing a faster cycling with this steel slide pistol.

Features:

Trijicon RMR optics mount without slide modification.
Prizefighter slide kit includes: -
PTS ZEV Prizefighter G17 Slide
PTS ZEV G17 steel standard barrel
PTS ZEV combat sight (front & rear)
PTS ZEV pro magwell
PTS ZEV fulcrum adjustable trigger
PTS ZEV extended magazine release (Gen-3)
PTS ZEV red dot adapter plate
PTS ZEV backplate
Laylax power inner barrel (97mm) and bucking set (TM G17)
Housing for the TM G17
Nozzle return spring guide
Reinforced Nozzle Set
Piston Head
Steel Zero Hammers Set
MEC M-Valve
Specification:

Color: Black
Dimension: Length: 205mm
Material:

ABS (Lower Frame)
6000 series Aluminum (Slide)
Brass, Stainless Steel, Rubber (Valve)

Finish: Black Anodized Finish (Slide)
Titanium Nitride (TiN) (Outer Barrel)
Optics mount: Trijicon RMR
Weight: 740g (approx.)
Inner Barrel Length: 97mm (LayLax Power Barrel)
Hop-Up: Reinforced Nozzle Set
Magazine Capacity: 24 rounds
Shooting Modes: Semi/Safety
Muzzle Velocity: 82~88m/s (275-300fps) @ 6mm 0.2g BB
Power Source: Top Gas
Blowback: Yes
Packaging: Magpul DAKA Window Pouch :M (Black)
License: ZEV: logo and related brand names are trademarks of ZEV Technologies, Inc. in the United States and/or other countries and are used for airsoft replicas under exclusive worldwide license by PTS Syndicate, Ltd. www.ptssyndicate.com

Disclaimer: This product is for airsoft, training, and simulation purposes only. Utilizing Airsoft products improperly, including in real firearm applications, are potentially dangerous and may cause serious injury. PTS will not accept any responsibility or liability for misuse of this product.
Choose options