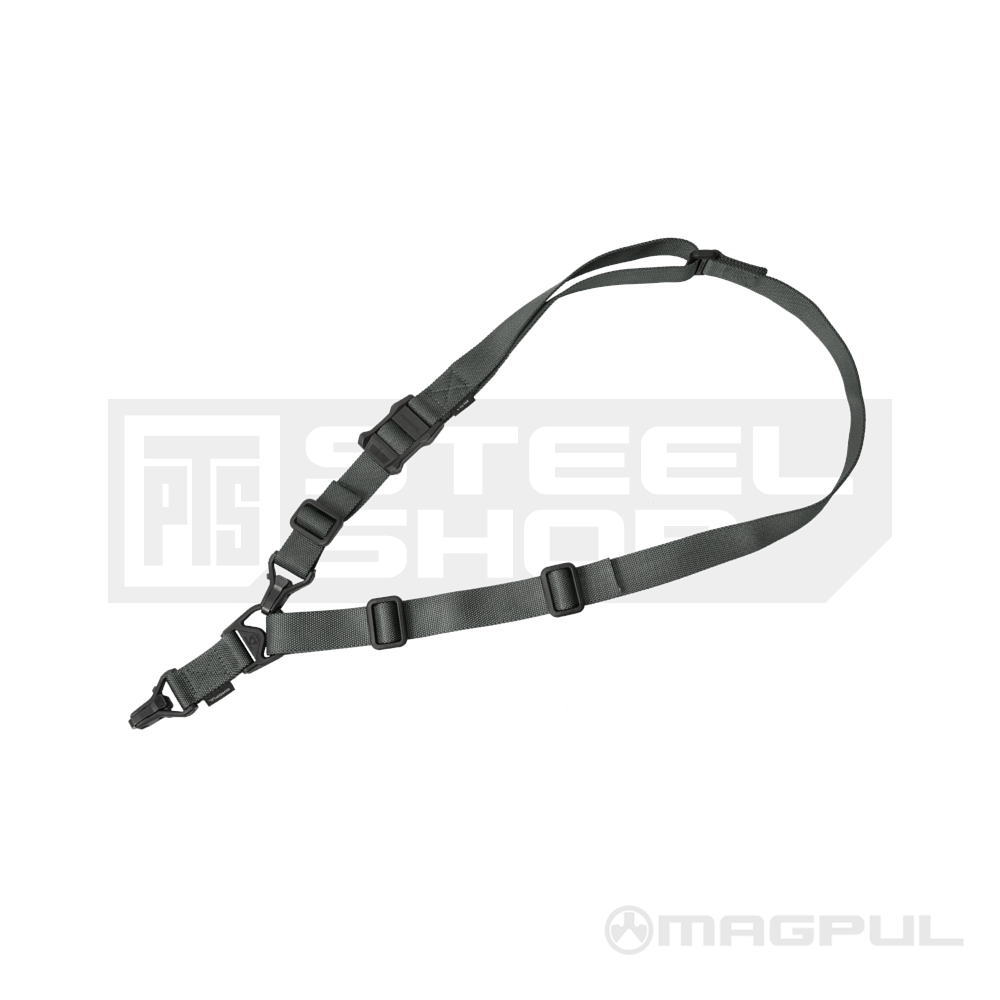 MS3 Sling (GEN 2)
SKU: MA505430307
---
Driven by the operational experience of Magpul instructors, the MS3 Multi-Mission Sling System was designed to give a versatile weapon-retention solution for a multitude of tactical environments and missions. As a standalone product, the rapidly-convertible MS3 allows an operator to leverage the maneuverability of one-point attachment for direct action, or two-point attachment for stability. Single-hand adjustments and quick-release, positive-locking hardware provide flexibility and durability in a truly adaptable sling system.

Used in conjunction with the optional Magpul ASAP plate, the MS3 sling enables seamless transitions into an array of shooting positions without getting bound or fouled. The MS3 concept allows switching from Weapon Shoulder to Reaction Shoulder for shooting around corners, under vehicles, or to minimize exposure. The MS3 can also increase operator survivability by keeping the weapon in the fight in case of injury to the operator's shoulder, arm, or hand. The MS3 GEN2 incorporates a new low profile quick-adjust Slider which minimizes bulk and allows for secure, yet effortless, sling adjustment. Webbing length has also been increased for a comfortable fit with all body types and armor configurations.

Made in U.S.A. and 100% Berry Amendment compliant.

Features

Fast transition between a single-point sling and two-point sling
Light weight yet durable hardware made with hardened steel and heavy-duty polymer
Symmetrical Paraclipshackles allows for easy transition and provides weapon quick-release capabilities in an emergency
Cross-Bolt Lock Bar in each Paraclip allows the user to optionally lock its lever closed for extra security
Steel Paraclip levers are case hardened and finished with a ferritic nitrocarburizing process for extreme resistance to wear and corrosion
Custom 1.25 inch wide nylon webbing material is strong and wear resistant while remaining anti-chaff for user comfort
Low-profile adjustment Slider for adding or removing sling tension in two-point mode with a single-hand
Colored webbing has Near Infrared (NIR) treatment to reduce IR signature
Sling Mounting
REAR - Works with the Magpul ASAP for optimal shoulder transitioning in one-point mode as well as the SGAReceiver Sling Mount. Also compatible with many snap-hook style sling loops* and standard or QD sling swivels.
FRONT - Compatible with the Magpul RSA, MSA and Forward Sling Mount, as well as many snap-hook style sling loops* and standard or QD sling swivels for use in two-point mode.
* Snap-hook style sling loops with an inner diameter of at least 3/8" are required, but 9/16" and larger will provide full range of motion.

WARNING: Observe safe firearm handling practices at all times. Failure to do so may result in serious bodily injury or death. Magpul Industries shall not be responsible for injury, death, or property damage resulting from faulty installation, misuse, illegal use, or modification of this product.
Choose options