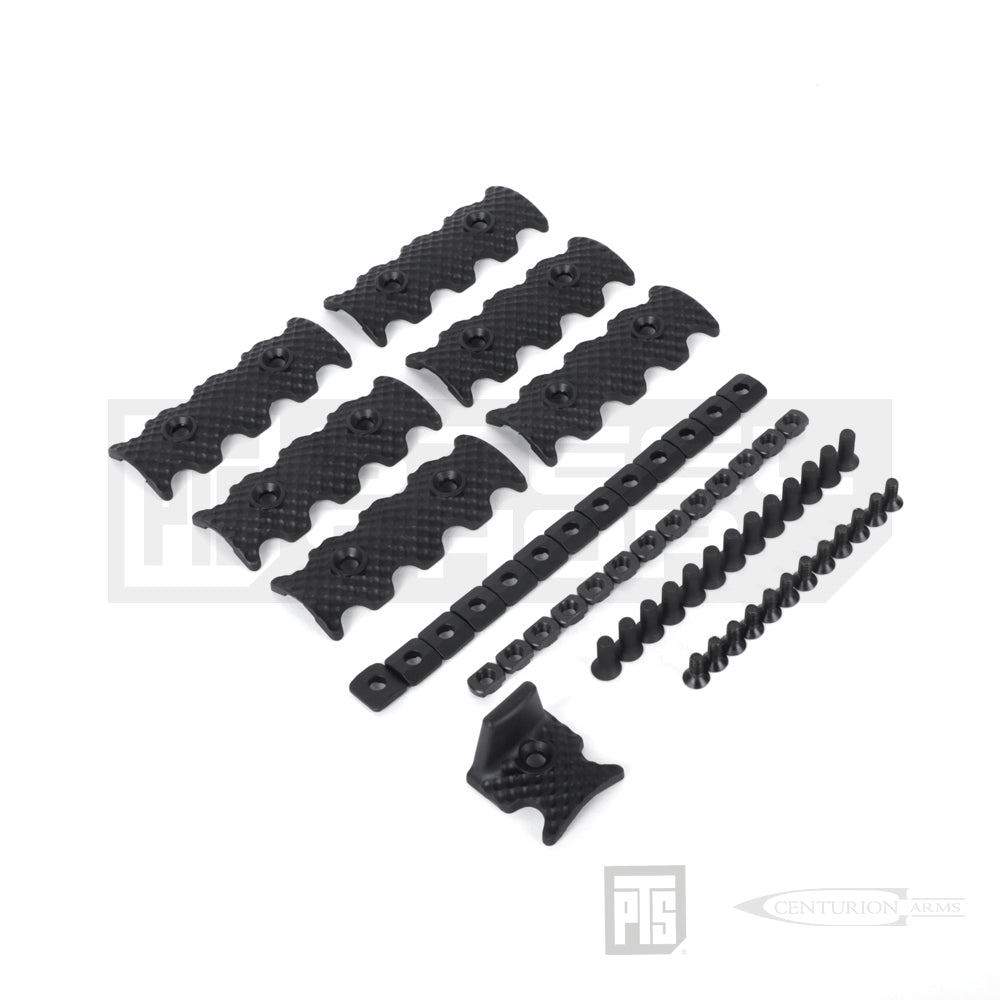 CMR Rail Accessory Pack For M-LOK Rail
商品貨號 (SKU): CA017450907
---
The PTS Centurion Arms CMR Accessories are made of DupontZytel High-Performance Reinforced Polymer. Their lightweight and small profile help to maintain a lightweight platform with minimal bulkiness added to the slender CMR rail's cross-section. The polymer accessories adhere to the K.I.S.S. (Keep It Simple Stupid) principle and directly mount to the PTS CMR (M-Lok) with threaded fasteners making them easy to install and modify to customize your rifle for your shooting needs. These accessories are interchangeable without having to utilize back plates or to dismantle the rail system itself has stayed true with the K.I.S.S. system.
The Centurion Arms CMR rail covers have been given a unique golf ball style texture on its surface, providing a very firm grip for the end-user hands. They maintain as low a profile as possible and their semi-circular edges correspond along the ventilation holes of the rail. The rail covers have score lines on the back to allow the user to custom cut it to a shorter length to fill in the gap between other accessories.
The CMR hand stop also has a golf ball dimple textured surface for a secure grip and only requires a single screw to bolt it down. Its design follows closely to that of the rail cover so they will both transition with each other very well when placed next to one another. The hand stop can be utilized in the front of the rail to grant the ability to place the hand forward without the worry of slipping off the rail.

Specification:

Color: Black
Material: DupontZytel High-Performance Reinforced Polymer
Package:Â Rail Cover (x6) Hand Stop (x1) Screw (x13)
Dimension

Hand Stop 32 x 30 x 25mm (approx.)
Rail Cover 83 x 29 mm (approx.)

Weight:

Hand Stop 5.5g
Rail Cover - 8g

Compatibility: PTS Centurion Arms CMR Rail Systems (M-Lok)
Disclaimer: This product is for airsoft, training, and stimulation only. Please be aware that this product is not compatible with real firearms. Users should be alert that airsoft products are potentially dangerous which can cause serious injury and even death. If user misused this product, PTS will not take any responsibility accordingly.
選擇選項