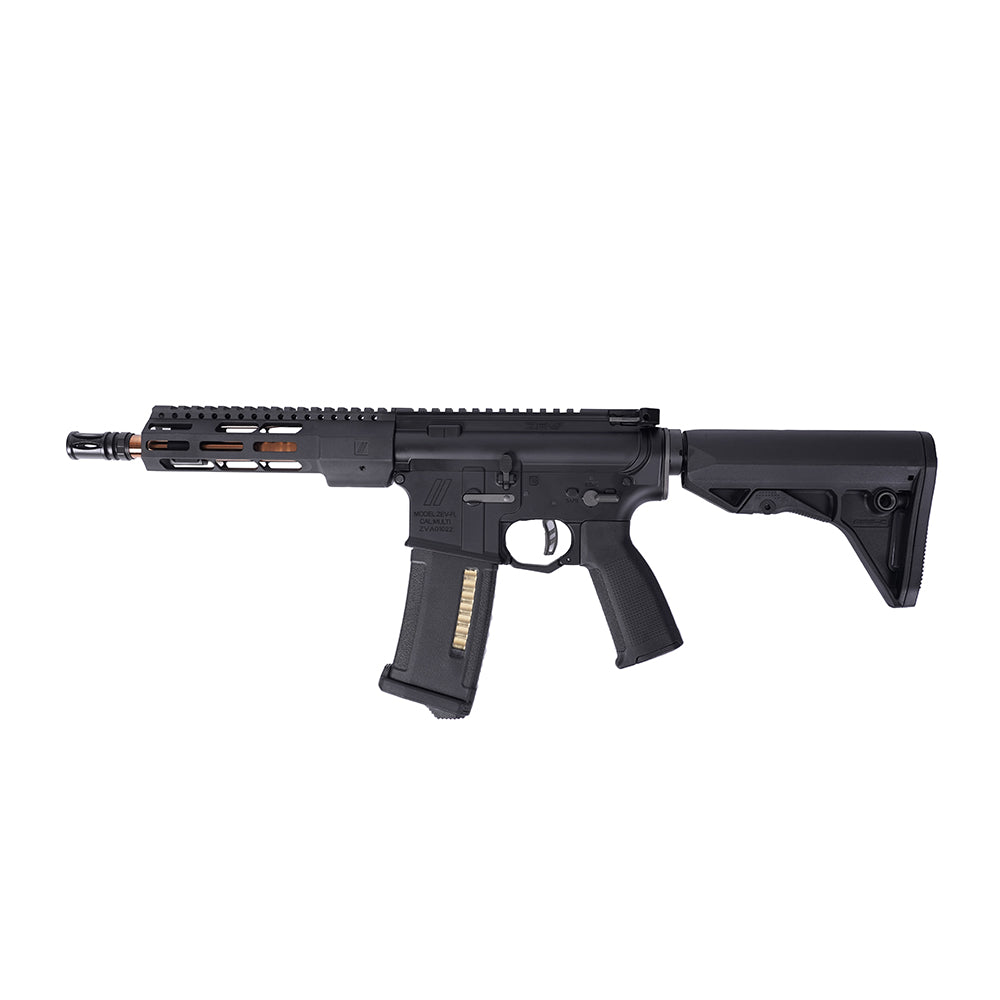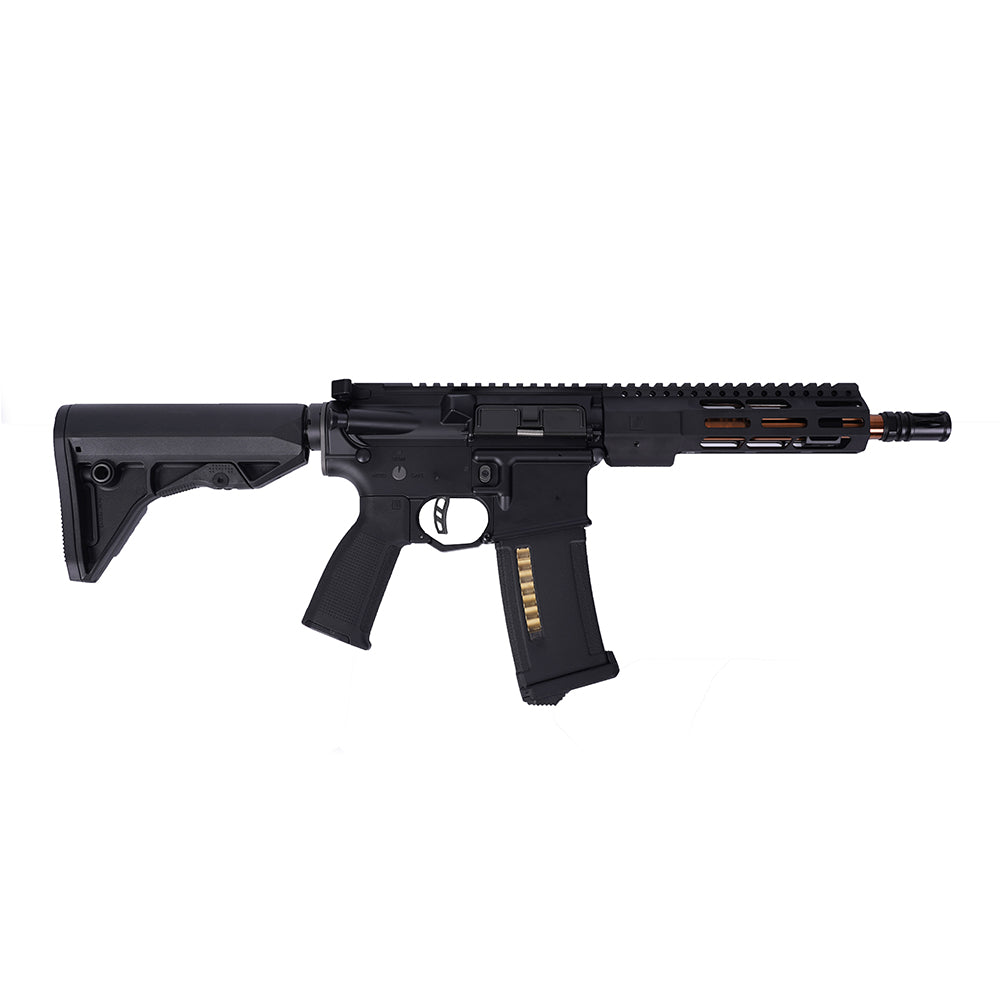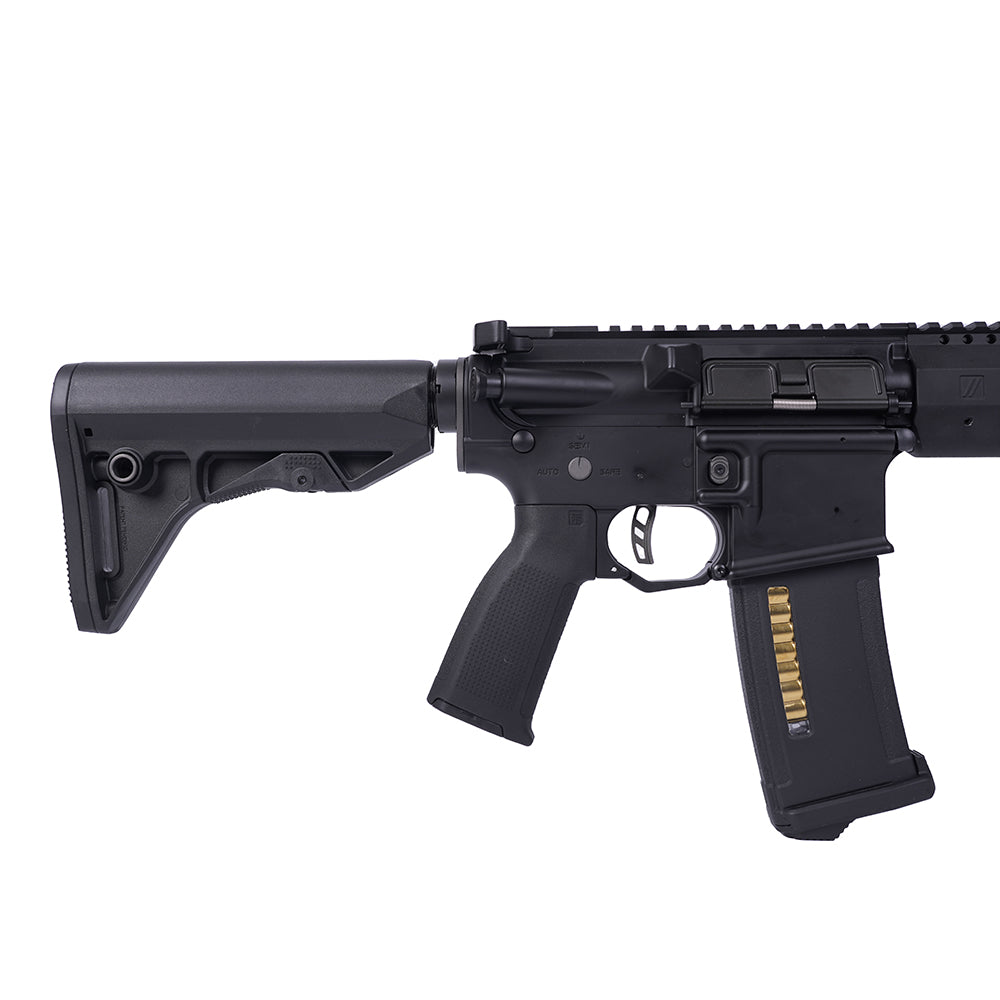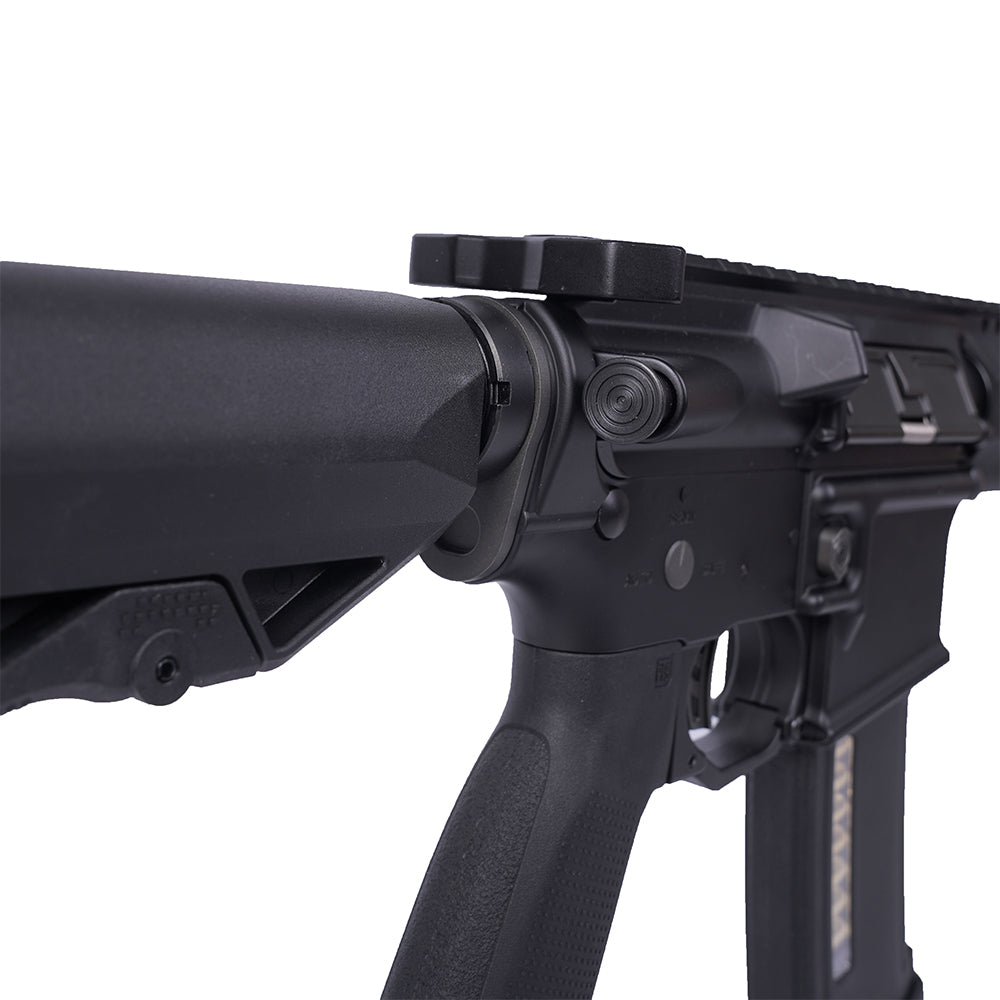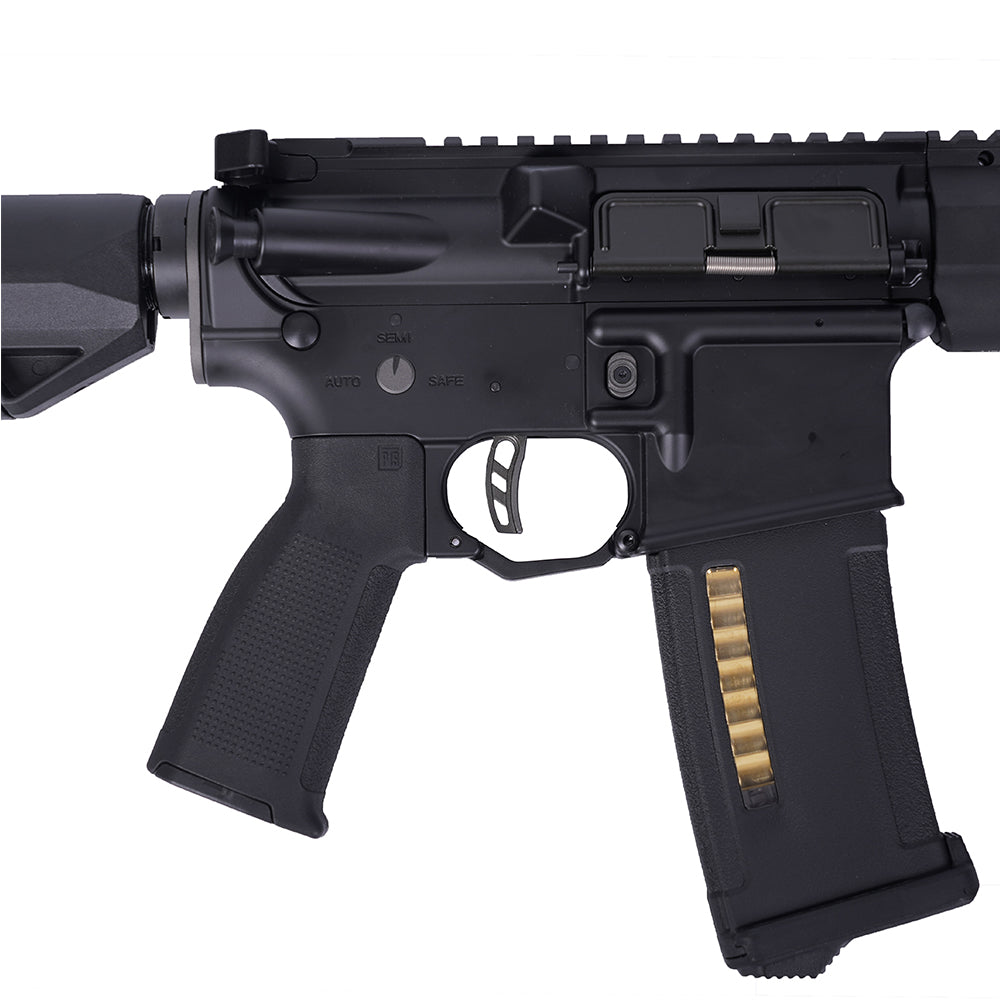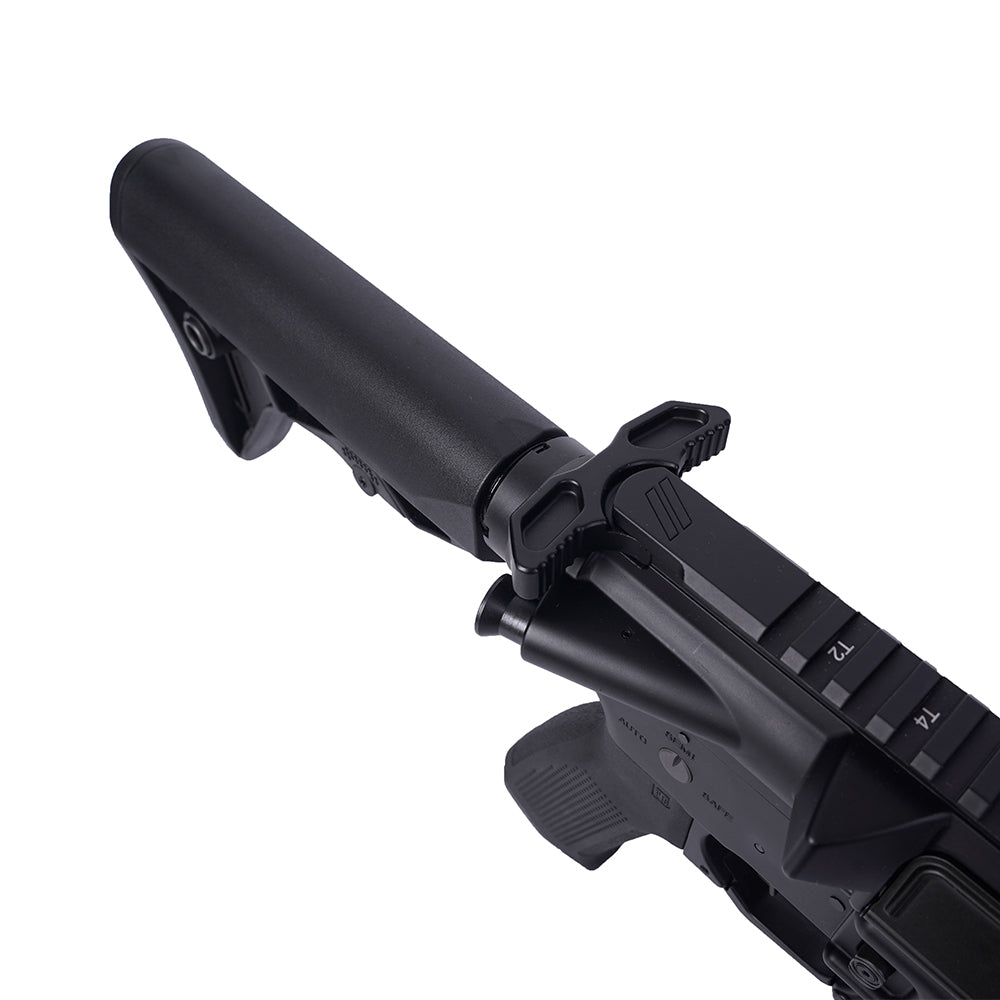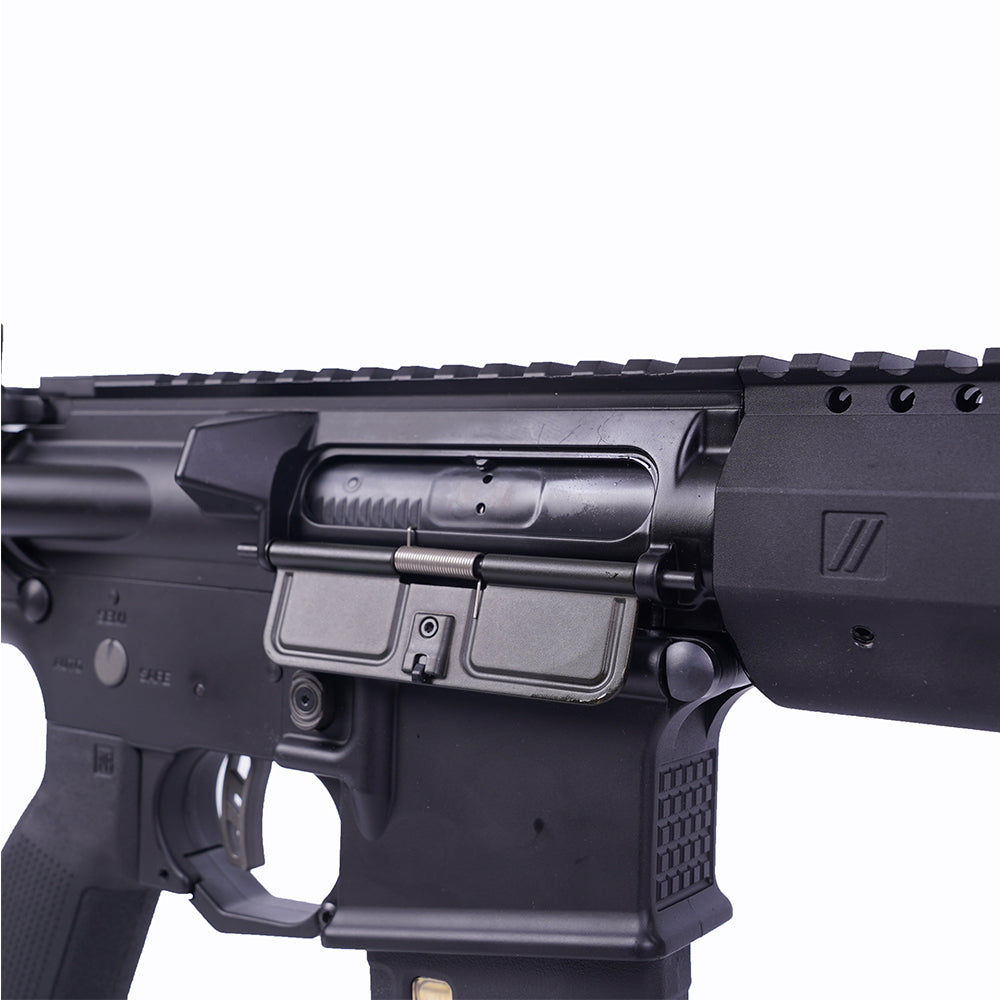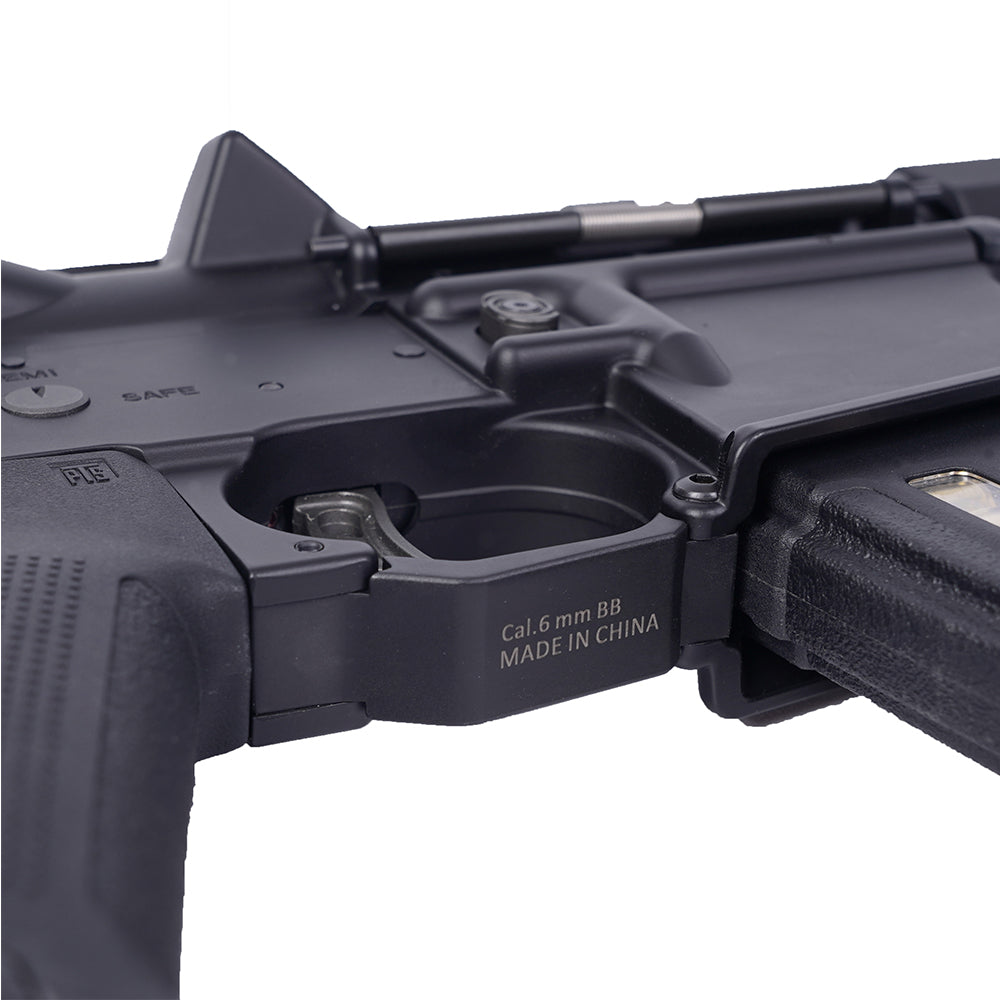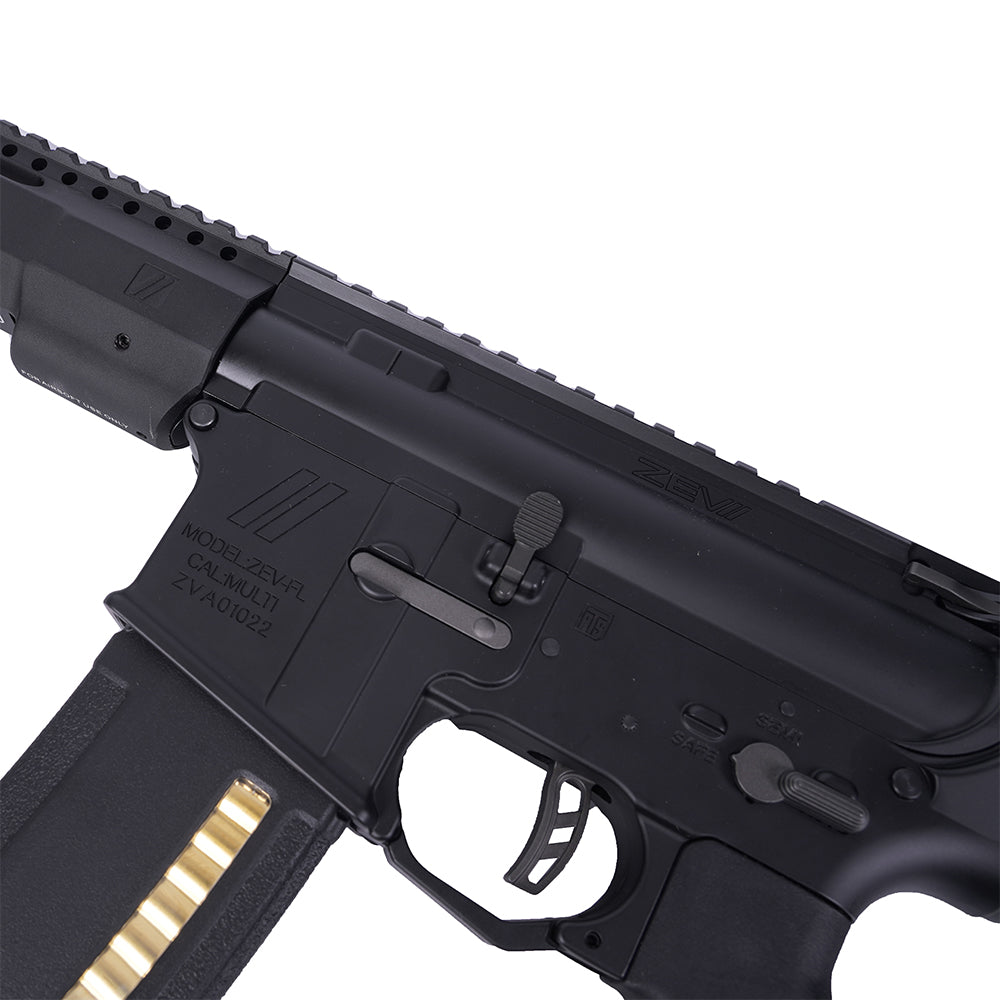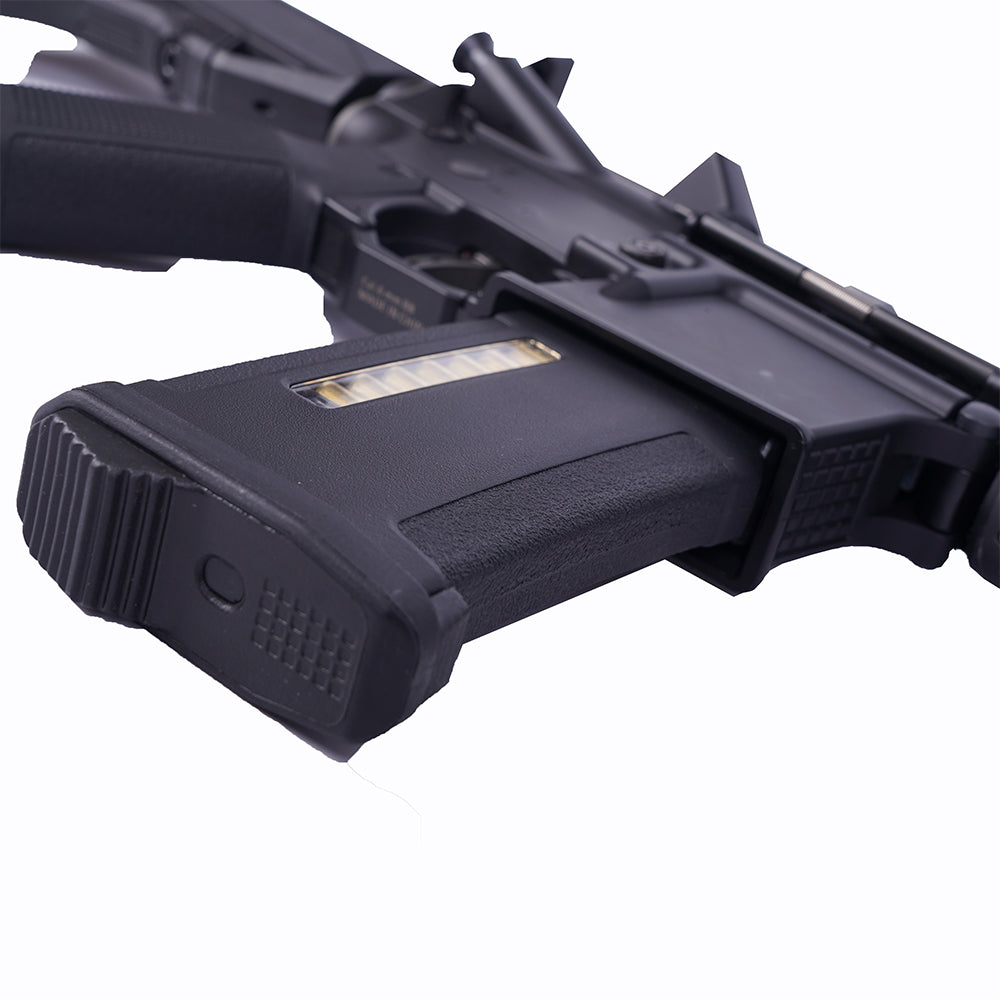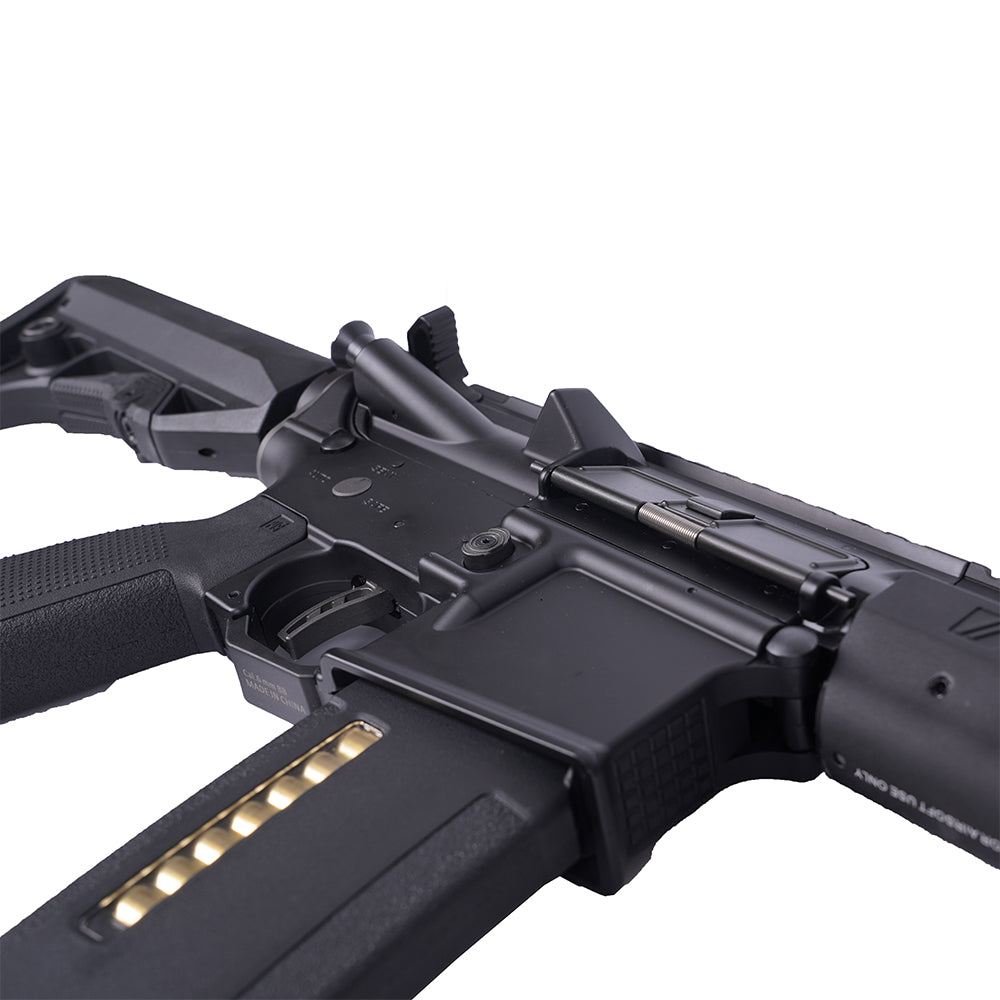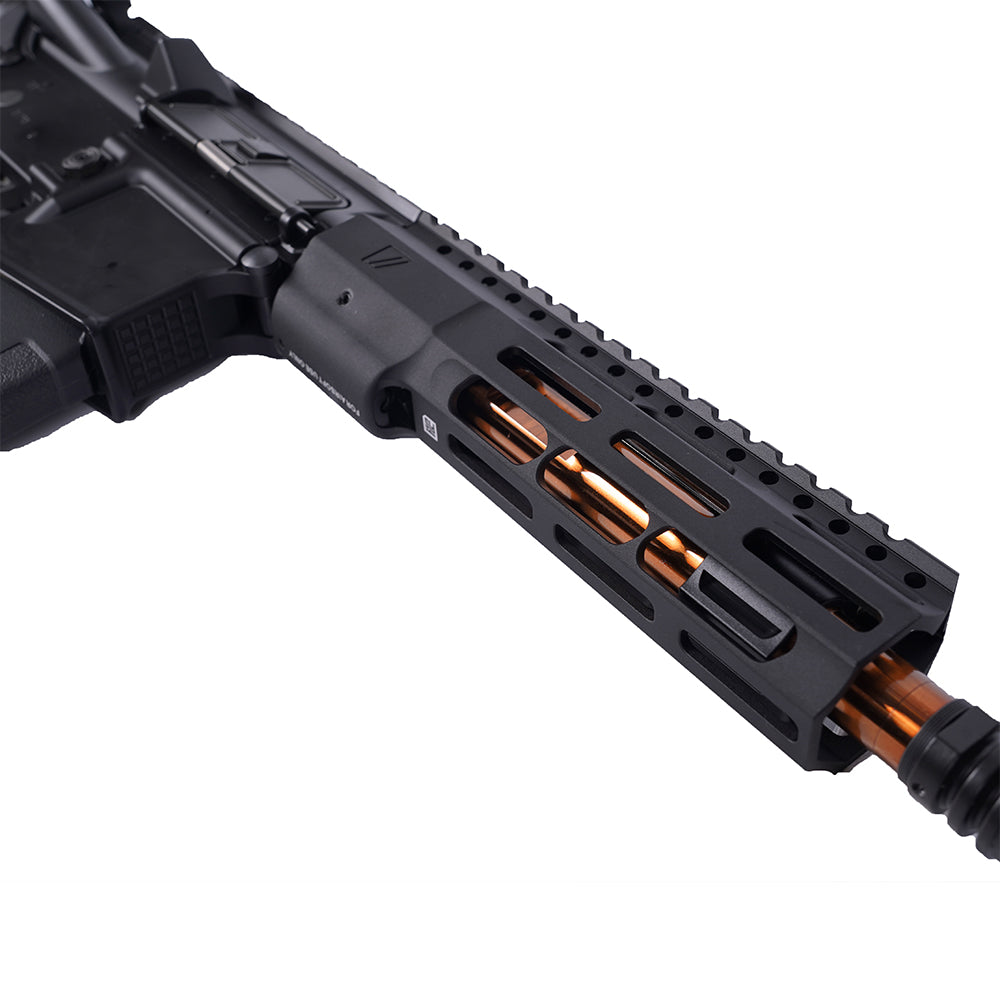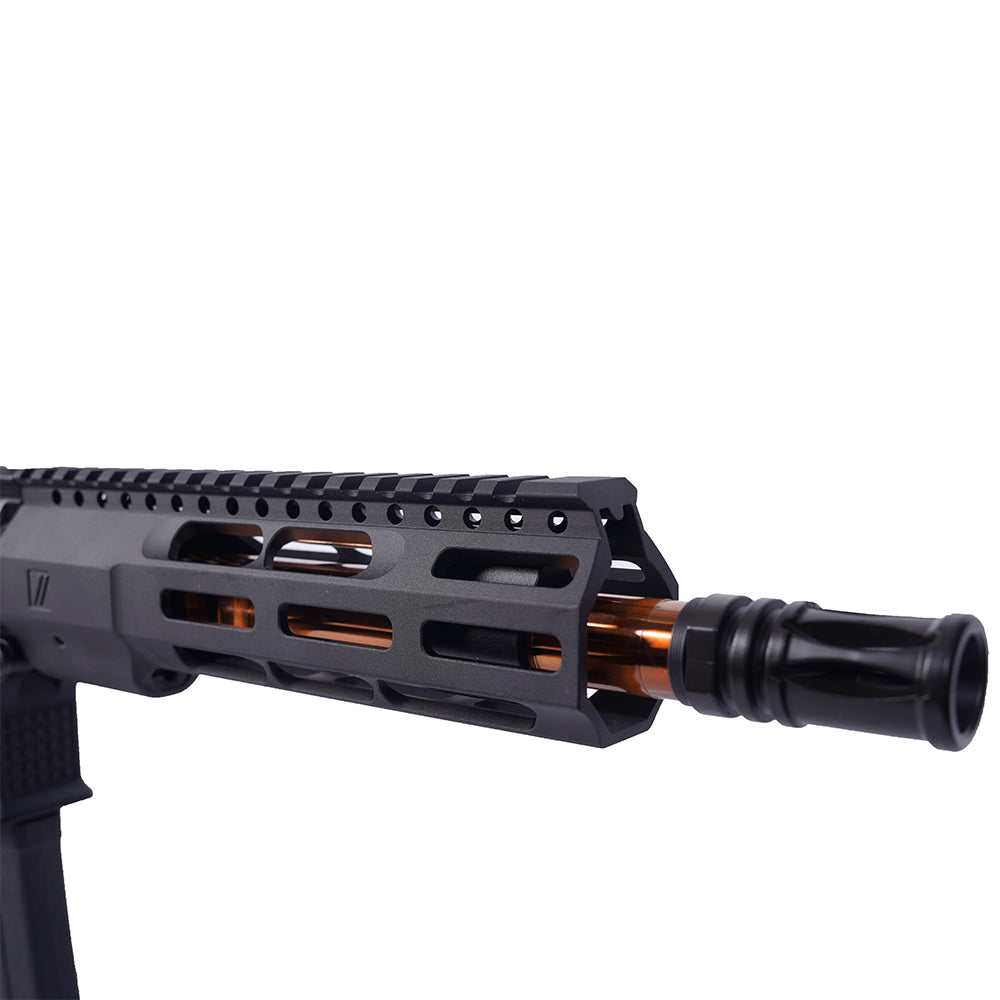 The PTS ZEV Core Elite Airsoft Electric Guns (AEGs) are available in 7.5-inch barrels. Each model comes with the PTS ZEV Wedge Lock Rail which provides full continuous top rail with M-LOK mounting system and with integrated anti-rotation pin ensure a consistent rail alignment and rifle rigidity. The outer barrel comes with the special bronze finish and the receivers are deeply engraved to ensure the Zev airsoft rifles' appearance are authentic with the original Zev rifles. Additionally, included as standard equipment for the ZEV Core Elite AEG, are PTS' highly popular proprietary design polymer accessories including the Enhanced Polymer Grip (EPG / EPG-C), Enhanced Polymer Trigger Guard, 150rd Enhanced Polymer Magazine (EPM) and Enhanced Polymer Stock – Compact (EPS-C).
Internally, the PTS Version 2 AEG Gearbox with 18:1 ratio gear and 8mm ball bearing features a quick-change spring for power adjustment, for higher efficiency and lower power consumption, and an electronic trigger MOSFET unit (non-programmable) for faster trigger responses and electrical wiring protection.
Feature:

Authentic licensed trademark ZEV Technology engravings
7.5 Inch Barrel with Bronze Color Finish
PTS ZEV Wedge Lock Rail 7 inch - very sleek, modern looking M-LOK compatible handguard that is skeletonized for lightweight without compromising strength.
PTS ZEV Slide Lock Charging Handle (AEG) - minimalist design, fully ambidextrous controls, and minimal moving parts for simple and reliable operation.
PTS ZEV Single Stage Rifle Trigger (SSR) – adjustable trigger pull for customizable trigger responsiveness. The straight trigger blade design provide a short pull geometry.
EP Stock – Compact (EPS-C) - a simple, minimalist, sleek, and lightweight polymer stock. Features rounded cheek welds stay in tune with the slim profile of the stock whilst maintaining user comfort.
EP Trigger Guard (AEG) - a shallow"V" shape which enlarges the trigger guard opening for better use with gloves.
EP Magazine (AEG) - EP Magazine, boasts a Dupont® Zytel™ reinforced polymer body and holds up to a maximum of 150 rounds. It also compatible with PTS EPM1 which be sold separately.
EP Grip – Compact (EPG-C) – More vertical compact grip angle with improved ergonomics
Rear Wired & Li-Po Ready – Can handle the power of 11.1v Li-Po batteries.
Recommend 7.4v-11.1v Li-Po batteries (15C)
Specification:

Color - Black
Dimension –

7.5 inch: 640 mm (stock retracted), 720 mm (stock extended)
Package size: 90 x 31.2 x 8.1cm

Weight –7.5 inch: 2.42 kg (product), 4.02kg (with package)
Rail Handguard Length – 7 inch (with CNC Gas Block)
Outer Barrel Length – 7.5 inch
Inner Barrel Length – 7.5 inch (6.03mm diameter)
Barrel Thread – 14mm Counter-Clockwise (CCW)
Upper & Lower Frame – ZEV Core Elite Style (good gripping front side)
Hop-Up – Adjustable from the breach
Shooting Mode - Safety / Semi-Auto / Full-Auto
Gearbox Type -

Ball Bearing Size: 8mm
Gear Material: Steel
Gear Ratio: 18:1
Piston Material: Reinforced Polymer (Nylon + 33%FG)
Piston Teeth: 14 MIM Steel Piston Teeth
Tapper Plate: Custom Sized Reinforced Polymer
Cylinder Material: Stainless Steel
Cylinder Head: Aluminium, Double O-Ring Air Seal Type

Quick Change Spring – Support
Trigger – ZEV SSR style (adjustable trigger pull)
Stock Buffer – Quick-Detach Ball Bearing Spring Guide
Digital Control -

Electronic Trigger System: Build-in design (without programmable control module)
MOSFET: Integrated

AEG Motor – 36000 High Torque (good initial action response)
AEG Power Source – 7.4v – 11.1v (15C) (LiPo type, not included)
Battery Connector – Large T-Plug Deans Connector
Magazine Capacity - 150 rounds (PTS EPM AEG) fully compatible with PTS EPM1 250 rounds
Muzzle Velocity – 320 FPS @0.2g bbs (7.5 inch)
Rate of Fire – ~20+ RPS
Manufacturer - PTS
License: ZEV® logo and related brand names are trademarks of ZEV Technologies, Inc. in the United States and/or other countries and are used for airsoft replicas under exclusive worldwide license by PTS Syndicate, Ltd. www.ptssyndicate.com

Disclaimer: This product is for airsoft, training, and simulation purposes only. Utilizing Airsoft products improperly, including in real firearm applications, are potentially dangerous and may cause serious injury. PTS will not accept any responsibility or liability for misuse of this product.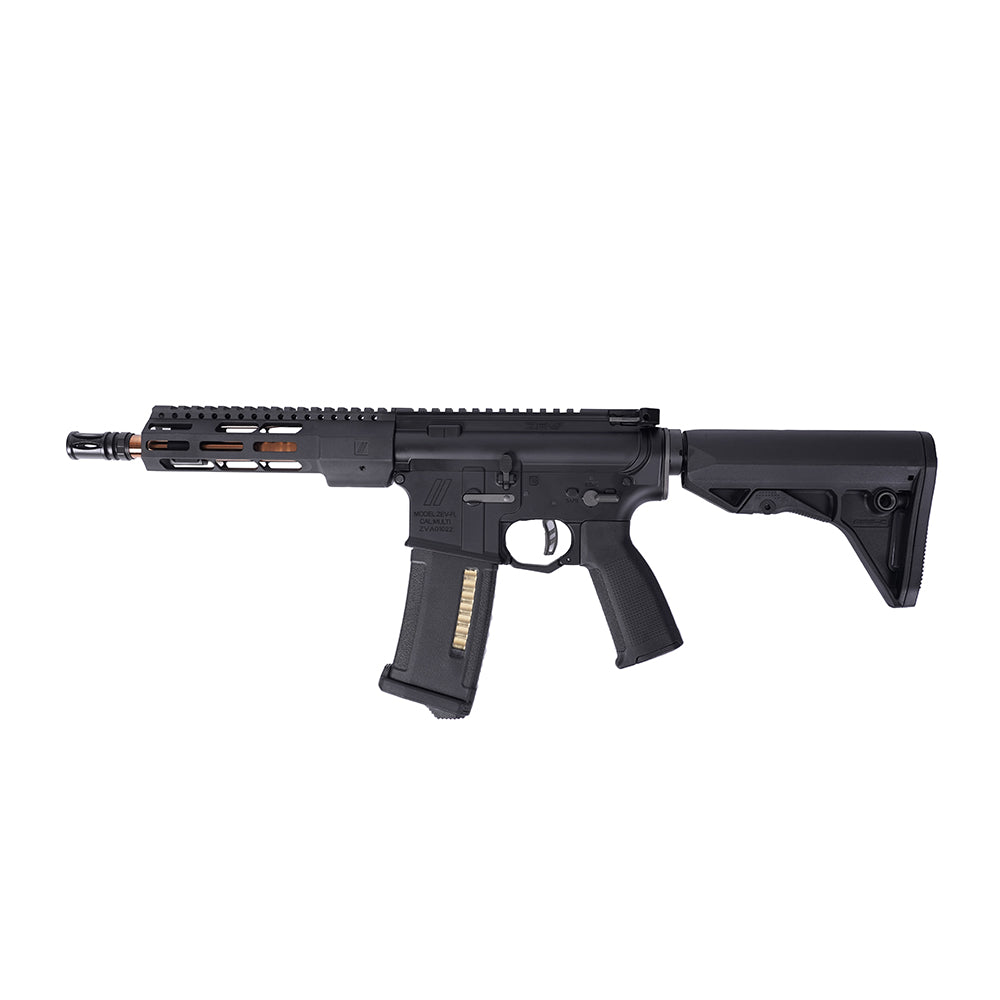 Core Elite CQB 7.5 inch Airsoft AEG Rifle w/PTS EPM
促銷價

$375.04 USD
原價
選擇選項