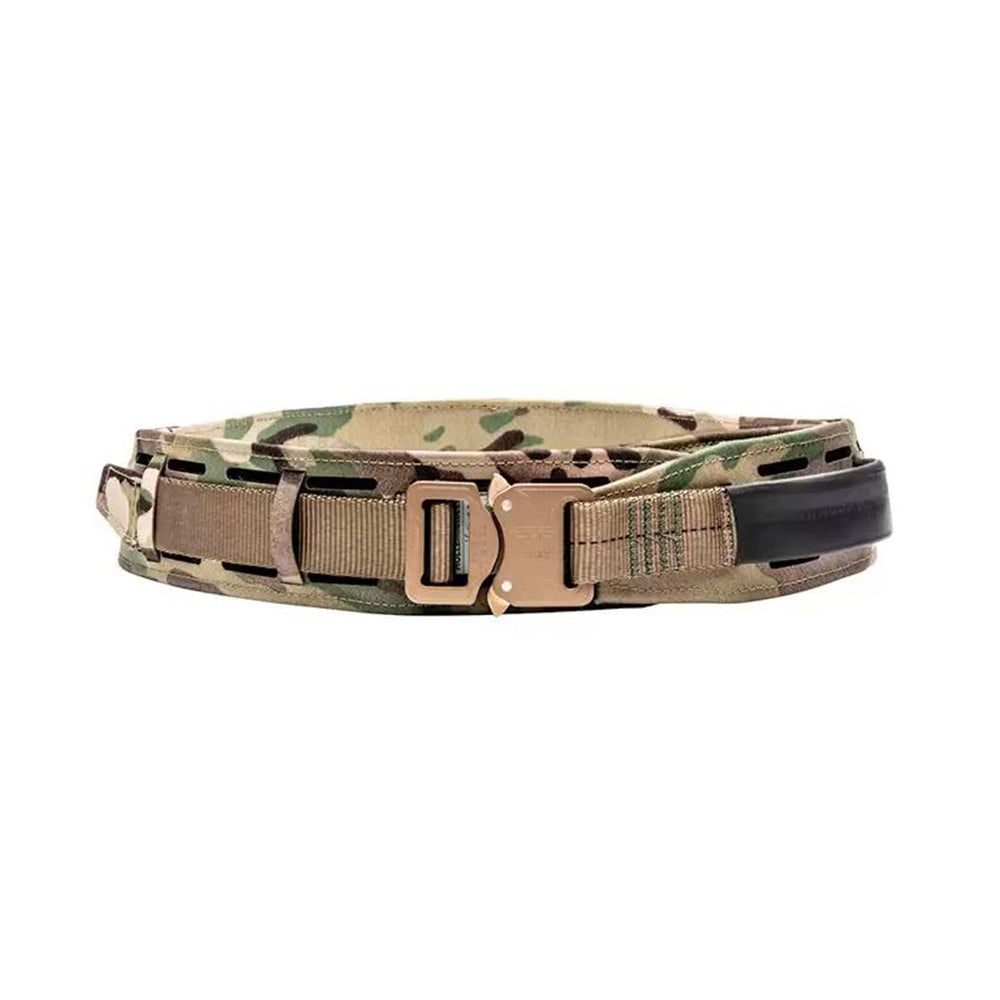 CHLK Belt 32in - Multicam
商品貨號 (SKU): BF046532338
---
The CHLK Belt by BFG
The CHLK™ Belt Kit is a revolutionary approach to the modern battle belt – able to act as a low profile pistol belt or a full capacity MOLLE belt kit. CHLK - short for "Combat Helo Load Rated Kit" - was designed and built around the needs of the helicopter assaulters. They needed a belt kit that was super low profile with fewer snag liabilities and load rated to be able to 'clip in' and provide life saving tethering to the aircraft.
Naturally Fitting
Your waist is not a barrel. Ever notice how your favorite, old leather belt has a well established curve when you lay it on a table? That's why it fits so well. With the CHLK Belt, we designed and sewn the belt already with this
Load Rated Tether Points & Buckle
Designed for the airborne units that double their war belts as safetey equipment - the CHLK Belt - Combat Helo Load Rated Kit - has two semi-rigid tether points at the rear and the front left. Mil-spec load rated webbing spans the circumfrance and connects with a battle proven AustriAplin COBRA Buckle that will exceed the requirements for harness equipment.
Outer Belt
The outer belt is fully MOLLE compatible with MOLLEminus™ technology using slots instead of traditional webbing. The outer belt securely attaches to the inner belt with a hook and loop interface along with a load rated COBRA™ buckle. Two external tether points – one on the front and one on the rear – allow the user to clip into a safety line when needed. The Lightweight MOLLEminus Belt is produced with a curve very similar to a worn leather belt for greater comfort and to eliminate unnatural 'ride up' with a flat produced war belt.
Inner Belt
The Belt Kit starts with an inner belt that is worn weaving through your pant loops and is reversible to be pattern matched and can be worn as a standalone pistol belt.
Fully MOLLE Compatible
The CHLK Belt uses MOLLEminus precision laser cut slots can support a wide range of pouches with varying attachments - from MOLLE compatible Helium Whisper Attachment System, traditional MOLLE straps, clips, or belt mounted pouches and holsters. With three "rows" pouches can be mounted at different heights for ease of access and comfort.
Specifications
Best Style: Molle
Frame Type: Internal Frame
Gear Capacity: 3500lbs load rating
Weight: 12.5 ounces
Material(s): Rigid Composite Laminate, ULTRAcomp™ laminate, TEX 70 bonded nylon thread, and Tubular webbing
Frame Material: Rigid Composite Laminate
Measured Waist Size (inches): 32 1/2" - 34 1/2"

CHLK Belt Size: 32

Molle Slots: 3x22
選擇選項