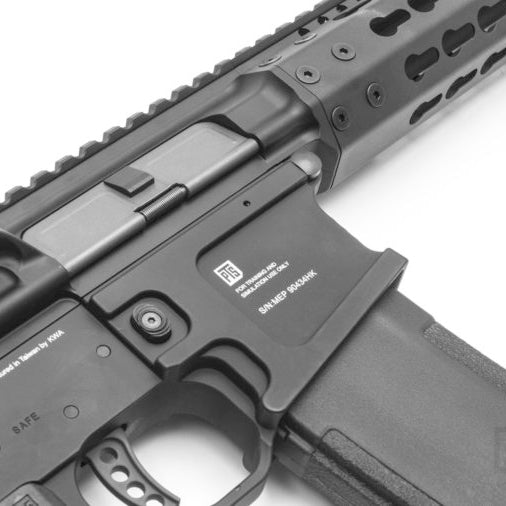 PTS Custom – Mega Arms MKM AR-15 (Deluxe Version) | AMNB Review
Upgraded to be a top notch performer out of the box!
The PTS Mega Arms MKM AR-15 GBBR replicates the unique design of the Mega Arms MKM AR-15 platform.  The Mega Arms MKM platform mates the rail with the billet receiver in a proprietary manner that makes it as rigid and sturdy as a monolithic (1 piece) upper yet remains extremely lightweight.
This design combined with PTS's precision engineering and faithfulness to realism makes this a very high quality and durable airsoft replica.  It features a 12 inch Keymod compatible rail and 14.5 inch barrel, making a very versatile airsoft gun that can handle any combat situations.
The MKM AR-15 includes PTS proprietary design Enhanced Polymer Grip, Enhanced Polymer Magazine, and Enhanced Polymer Stock. Furthermore, the deluxe edition features some internal upgrade parts from Maple Leaf.
Package Includes:
PTS Mega Arms AR-15 Based

PTS Mega Arms AR-15 Billet Upper

PTS Enhanced Rail Section (Keymod) 11 Slots (2pcs)

Maple Leaf GBB 6.02 Inner Barrel (370mm)

Maple Leaf ESD EVO II Hop-Up Adjust Ring

Maple Leaf ESD EVO II KSC EZ Pack 80 Degree

Mega Arms skeletonized trigger

KSC/KWA System 7 GBBR
 Chris | AMNB, 2021
https://airsoft-milsim-news.com/pts-custom-mega-arms-mkm-ar-15-deluxe-version/