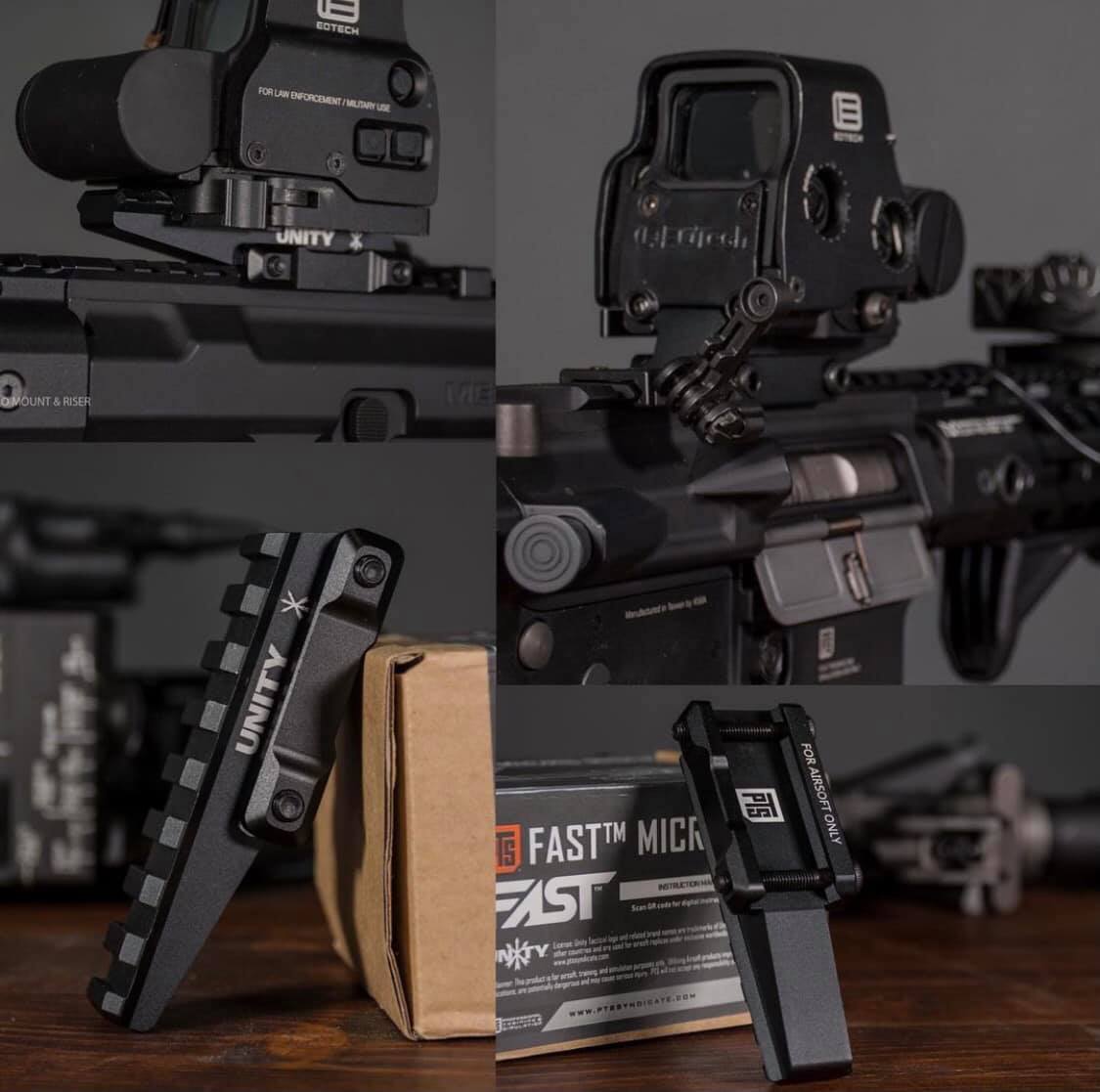 PTS UNITY Tactical FAST Micro Riser | AMNB Review
Introducing | The FAST Micro Riser
In our previous review (two days ago) we already took a closer look at the PTS/UNITY Micro Mount for you. Now, it´s time to give the second release a look. The FAST Micro Riser.
THE IDEA
Unity Tactical FAST™ is a series of optic mounts that provide end users with a quicker sight picture than standard height mounts. A 2.26" optical centerline height provides faster/easier reticle acquisition while wearing electronic earpro/communications headsets, night vision goggles and gas masks and allows for more rapid visual processing of the battlefield by promoting a heads-up posture.
A heads-up posture also helps users maintain a neutral spine position which is more comfortable while wearing helmets, plate carriers, and other heavy gear.
MICRO RISER
The PTS FAST Micro Riser is like the Micro Mount built from 6000 series Aluminum Alloy (black anodized). The Riser securely elevates block-type red dot optics with a standard lower 1/3 cowitness picatinny mount to a 2.26″ optical center line. It provides an elevated M1913 Picatinny platform for direct attachment of optics such as EOTech EXPS®, Leupold LCO®, Vortex UH-1®, and other "lower 1/3" optics.
Technically, the FAST Riser will support "absolute cowitness" optics such as EOTech XPS, Sig Sauer Romeo8H, etc.  But, compatibility with the FAST FTC Magnifier Mount will be limited here.
What I also like on the Riser is that if you run some bigger laser/light boxes up front on your rifle, the Riser helps you clears off these devices from your sight of view. Just think on the bigger LLM units mounted to a G36 or similar once.
As you expect it from a licensed product, the UNITY Tactical trademark can be found on the left side of the mount. This is actually a bit different as on the real deal where you find the company logo on the right side. Why? Tbh, I have no idea! One small detail is missing regarding to the "real deal". Right under the UNITY name – the PAT PEND| CAGE 81C38 number.
There´s also a quick reminder at the bottom that this product is made for "airsoft use only" for those that think to grab a cheap deal on the real deal and wonder why they may get a bad experience out of it while shooting their real firearm.
The FAST Micro Riser comes standard with a rail-grabber clamp. Compared to the Micro Mount which is able to receive a QD Auto-Lock™ Lever, the Riser is not. You have to deal with that!
If you want to use some BUIS with the Riser, you need to switch to Flip-Up Offset Iron Sights instead of traditional once. This feature will provide a fast-transition capability to the FAST™ Riser in case of need.
As seen here on my setup, I run it with the Griffin Armament Modular Back Up Iron Sights, which are also part of the licensed product family at PTS Syndicate. A perfect match for me.
For $30 bucks, which is half of the cost of the real deal from UNITY Tactical, you get another good replica out of the smithy at PTS Syndicate. If you follow the modern gun look and innovating gun parts from industry-leading companies, the PTS/UNITY Tactical FAST Series products are made for you!
(Chris ,2020)
https://www.airsoft-milsim-news.com/pts-unity-tactical-fast-micro-riser-amnb-review/