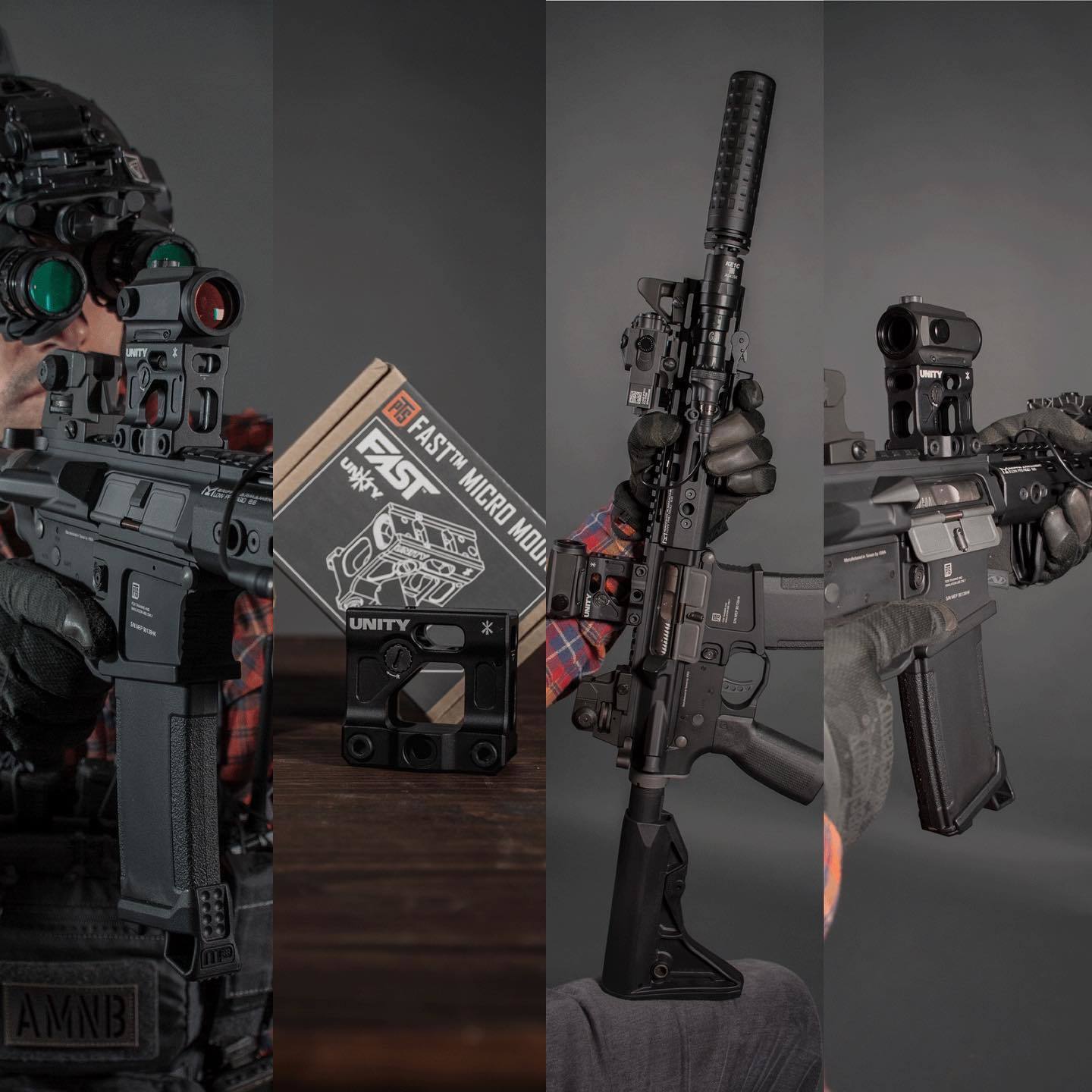 PTS UNITY Tactical FAST Micro Mount | AMNB Review
Introducing | The FAST Micro Mount from PTS
When it comes down to licensed airsoft products from the firearms and parts industry, PTS Syndicate is always a company wroth looking out for. Their latest new additions to the UNITY Tactical licensed product family are the FAST Micro Mount and Micro Riser who some of you have been waiting for to come out. In this review, we´ll focus on the Micro Mount first.
THE IDEA
Unity Tactical FAST™ is a series of optic mounts that provide end users with a quicker sight picture than standard height mounts. A 2.26" optical centerline height provides faster/easier reticle acquisition while wearing electronic earpro/communications headsets, night vision goggles and gas masks and allows for more rapid visual processing of the battlefield by promoting a heads-up posture.
A heads-up posture also helps users maintain a neutral spine position which is more comfortable while wearing helmets, plate carriers, and other heavy gear.
MICRO MOUNT
The PTS FAST Micro Mount is built from 6000 series Aluminum Alloy (black anodized). The Micro Mount is compatible with the Aimpoint® Micro (H1, H2, T1, T2, CompM5) series and other optics with the Aimpoint® Micro footprint such as those found on many Sig Sauer®, Holosun®, Primary Arms®, and Vortex Optics® platforms.
As you expect it from a licensed product, the UNITY Tactical trademark can be found on the right side of the mount. One small detail is missing regarding to the "real deal". Right under the UNITY name – the PAT PEND| CAGE 81C38 number. Except of this, every other marking is where it should be to give this replica an authentic look.
Of course there´s a reminder at the bottom that this product is made for "airsoft use only" for those that think to grab a cheap deal on the real deal and because of this, have a bad time shooting with their real firearm.
The Micro Mount features built-in standard height back up iron sights (BUIS) that keep your airsoft gun uncluttered without reducing capability. Those of you that run smaller gun platforms such as PDW/SMGs know that rail space can become a critical thing when mounting lasers, light/switches and sling attachment points to it.
If your gun offers enough rail space, you´re good to go with your preferred BUIS or you make a fusion of both.  How does this work? The front sight post can be removed so that the rear BUIS aperture from the Micro Mount can be used with a traditional front sight, creating a more conventional sight radius.
As seen here on my setup, I run it with standard old school CQB BUIS. I actually use the back sight too. Looks cool to me I like it but it also works well.
The Micro Mount comes with a standard rail-grabber clamp mount for fixation, but is already designed to readily accept a drop-in American Defense Manufacturing QD Auto-Lock™ Lever. This mounting option is sold separately, but not from PTS.
It´s available from the UNITY Tactical website or straight at American Defense MFG if you want to upgrade it.
PERFORMANCE
The Micro Mount works pretty well for me as I can tell it for now. Got to use it for about three weeks with my Holosun HS403B mounted on top of it. Installation was very easy using a hex key. It sits tight and strong on top, no wobble at all. Good workmanship right here. Actually, that´s what I expected from it. A bit more time in the field will tell how it really performs then. Let´s hope that the Corona Lockdown will end soon to get this field time rolling…
As mentioned at the beginning, this mount provides a quicker sight picture than standard height mounts on the market. Due to this, you have a more "natural aiming" position while shooting and moving towards your target. During the training sessions I did with it so far, I really can feel a benefit out of this. Also, the more neutral spine position which is a result of it is comfortable.
If you run Nods and want to use your optic to aim (instead of IR Lasers) or maybe both, this never felt more comfortable than with the FAST Micro Mount. As you can see in the pictures, the natural aiming position stays the same and so the line of view is in accord. Picking up targets during goon time becomes a much quicker thing that way. Very much appreciated from my point of view.
What´s more to say about it? For $60 bucks, which is less than the half of the price from the real deal, you get a very well made licensed replica for airsoft use. If you feel yourself in the need to improve your shooting/aiming device, the PTS UNITY Tactical Micro Mount is your go to option I would recommend.
Stay tuned on our site as we take a look at the second release from UNITY/PTS, the "Micro Riser" very soon too.
(Chris ,2020)
https://www.airsoft-milsim-news.com/pts-unity-tactical-fast-micro-mount-amnb-review/