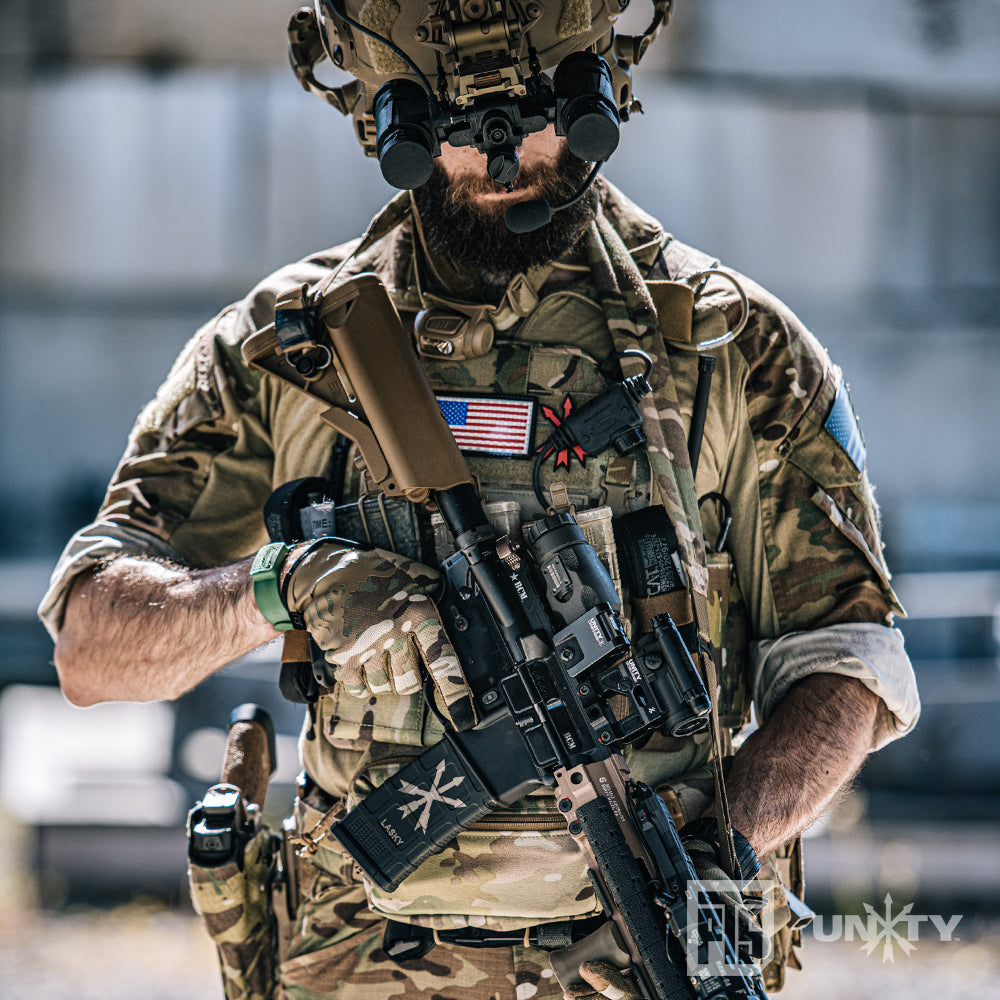 PTS Unity Tactical FAST™ family of rifle optics mounts announcement
PTS Syndicate is proud to announce that we will be producing the PTS Unity Tactical FAST™ family of rifle optics mounts for the worldwide airsoft market.
Unity Tactical FAST™ Mount
FAST™ is a series of optic mounts and platforms that provide end users with a quicker sight picture than standard height mounts. A 2.26" optical centerline height provides faster/easier reticle acquisition while wearing electronic earpro/communications headsets, night vision goggles and gas masks and allows for more rapid visual processing of the battlefield by promoting a heads-up posture.  A heads-up posture also helps users maintain a neutral spine position which is more comfortable while wearing helmets, plate carriers, and other heavy gear.
The FAST™ family of mounts include:
FAST™ Micro Mount: The FAST™ Micro Mount features built-in standard height back up iron sights that keep weapons uncluttered, without reducing capability.  Both front and rear BUIS are completely adjustable for windage and elevation.  The front sight post can be removed so that the rear BUIS aperture can be used with a traditional front sight such as our FUSION fixed or folding sights  (if present), creating a more conventional sight radius.  However, the built in front/rear BUIS is perfect for backup on super short PDW/SMG platforms where rail space is critical for mounting lights and lasers.  Designed for Aimpoint® Micro (H1, H2, T1, T2, CompM5) and other optics with Aimpoint® Micro footprint, such as those found on many Sig Sauer®, Holosun®, Primary Arms®, and Vortex Optics® platforms.
FAST™ Riser: FAST™ Riser securely elevates block-type red dot optics with a standard lower 1/3 cowitness picatinny mount to a 2.26″ optical center line.  FAST™ Riser provides an elevated M1913 Picatinny platform for direct attachment of optics such as EOTech EXPS®, Leupold LCO®, Vortex UH-1®, and other "lower 1/3" optics*.
FAST™ FTC Magnifier Mount: FAST™ FTC Magnifier Mounts feature the first ever Flip-To-Center (FTC) mechanism (patent-pending), providing stowage completely within the footprint of the weapon's receiver while not occluding the host optic's sight picture at all. This provides the most optic capability with the lowest profile during all modes of operation.  The revolutionary FTC function completely solves the problem posed by legacy flip-to-side magnifier mounts (when disengaged, the magnifier hangs off the side of the gun, creating a major snag hazard).  FAST™ FTC Magnifier Mounts completely eliminate this danger and utilize a force-to-overcome mechanism for rapid transition.   Designed for certain 30mm magnifiers.
About Unity Tactical, LLC.
"Innovative, Adaptive, Decisive." Unity Tactical designs and provides innovative products that blend form, function, utility, and technological sophistication into cutting edge solutions to common problems. 
Their line of highly unique and modular products include the innovative ATOM™ Modular Glock slide, the FUSION™ modular accessory mounting system, and the KNUCKL™ modular helmet mounting system.
PTS Syndicate
When it comes to training, simulation, and the ultimate experience, there's PTS and then there's everyone else.
With RDT&E (Research, Development, Test & Evaluation) teams in both USA and Asia and using the best materials and manufacturing processes, PTS Syndicate is committed to bringing the highest quality and innovative products onto the market to meet and exceed the exacting standards of the most discriminating end user.
PTS is also a prolific exclusive replica licensor of the latest weapon and weapon accessory products for the airsoft market and has an excellent reputation as a trusted licensing partner that works closely with our licensors to extend awareness of their brands into new market spaces.