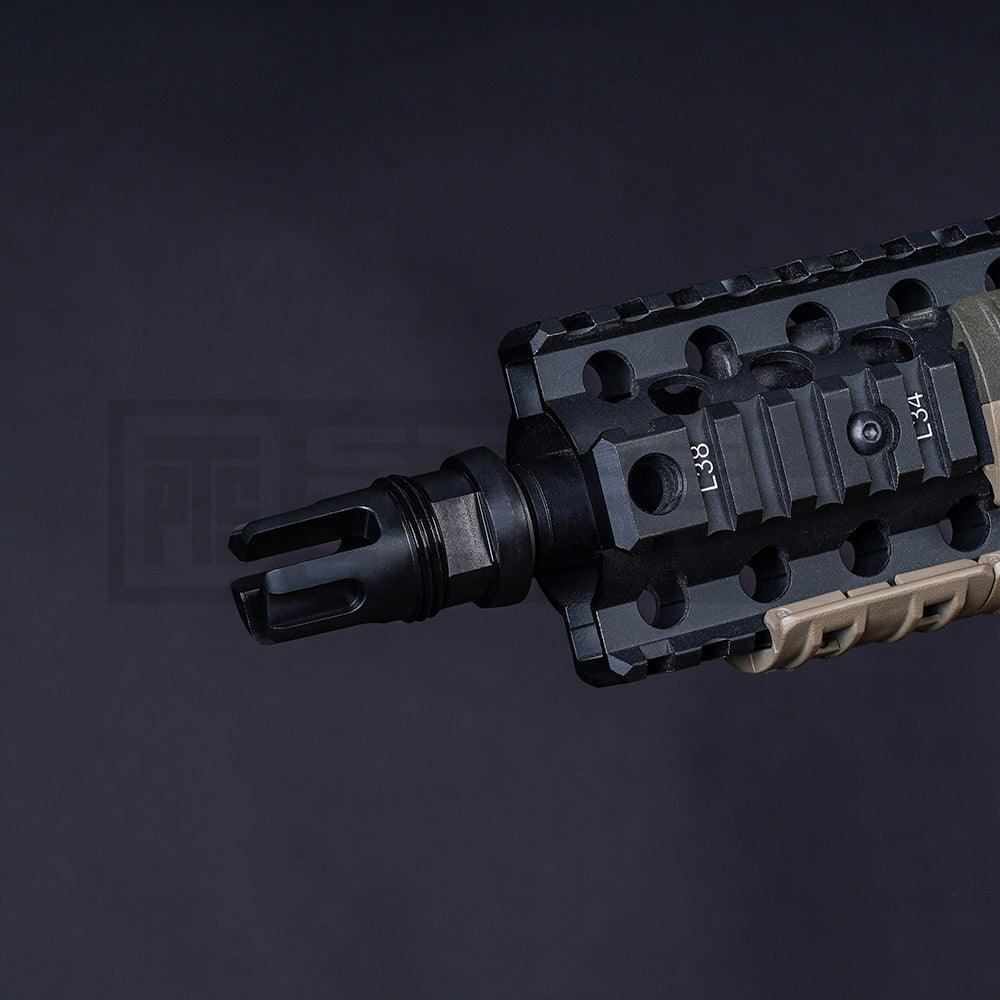 PTS Griffin Armament - Taper Mount Stealth Flash Hiders
Its hard to say too much about flash hiders in airsoft as they really are for looks above function. What is important though is build quality and materials! I've seen far too many cheap flash hiders that either don't sit right due to poor machining of threads or just plain strip at the first hint of being torqued up meaning BBs ping off them going any which way.
So whilst it may not be top of your list it is worth giving them some thought. By that I mean not just grabbing a surefire warcomp for example - excellent as they are (I have a few myself so I'm hardly innocent in that regard!) but looking for something different to complement your gun.
Now PTS have always produced great products and their (extensive) range of licensed flash hiders is no exception. Their latest offerings come courtesy of their arrangement with Griffin Armaments in the form of the taper mount stealth and stealth minimalist. Made of steel alloy and threaded for 14mm CCW they look the business; especially in my humble opinion the minimalist version. It has a look of the new SIG XM5 flash hider and I love it. I just need to get one of the resistance 9 mock suppressors now to complement it.
Looking good no?
Held on with a grub screw there are washers included in the pack to index the FH if you want to otherwise slapping them on is mere seconds work and can change the look dramatically. For either type hit up your local ptssyndicate retailer.

PTS Steel Shop Sitewide Up to 12% OFF!
PTS Steel Shop 今日就開始全店 88折優惠,基本上所有品牌同產品都受惠於今次活動! PTS系列產品就會有 9折優惠,而槍配件喺唔適用於全店優惠,敬請留意啦! 趁啱啱拎完第二輪消費券,盡情消費一下! Up to 12% OFF sitewide has started today! Basically, all products are applicable on this pr...
Read more