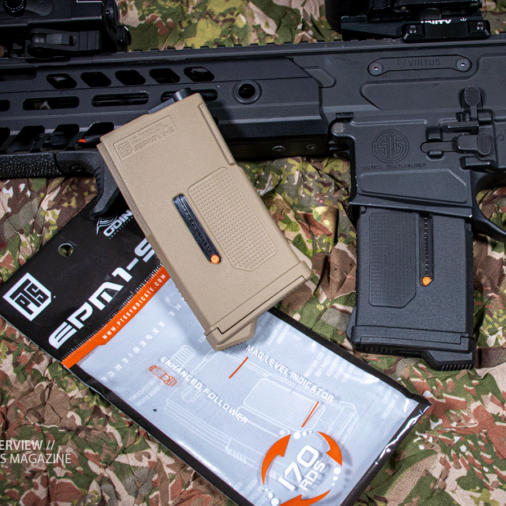 PTS EPM1-S & Enhanced Sling Plate – QD Overview| AMNB
The New PTS EPM1-S & Enhanced Sling Plate – QD are now available!
PTS is happy to introduce their new products which are the EPM1-S & PTS Enhanced Modular Sling Plate – QD last one for both AEG and GBBR.
The PTS EPM1-S AEG magazine is made with the same technology as their EPM1, is a 20R length short M4 magazine that holds an incredible 170 round bb capacity and offers the same reliability that all PTS magazines have long been famous for. the EPM1-S features the new and improved enhanced follower already build in for a much better  feeding performance that also reduces failures with most speedloaders the EPM1 had in its first generation using the old follower.
 It is compatible with most Airsoft AR-15 M4 AEGs including Tokyo Marui, KWA, G&P, VFC, including the HK416, PTS PDR-C, PTS ERG series, PTS Masada AEG, the AMOEBA AM Variants, and many more. The magazine is available in Black and Dark Earth.
Features:
• Dupont Zytel® polymer shell
• 170 BBs capacity
• Orange mag level indicator
• High efficiency compression spring
• Low friction internal shell
• Unique magazine mag well guide that reduce snagging
• EP dot pattern texture for better grip
• New polymer baseplate with angled surface and dot matrix
• New design follower prevents BBs jam
PTS Enhanced Sling Plate – QD
The sling Plate QD is a sling plate made from a high strength steel that can withstand strong pulling forces in all directions. The built in QD cup is precision machined for dimensional consistency for compatibility with any high quality QD sling loop including the PTS Low Profile QD Sling Swivel.
Features:
• High strength steel construction
• Built in steel QD cup.
• QD cup compatible with PTS Low Profile QD Sling Swivel & standard QD Sling swivels (sold separately)
 (Rick, 2020)
Editor from AMNB
https://www.airsoft-milsim-news.com/pts-epm1-s-enhanced-sling-plate-qd/
g2x
對上一次我地簡單介紹過 SureFire – EDCL 系列。 今日我地再介紹埋 G2X 系列分別係 Tactical、PRO 及 MV (Max Vision)。   依家就直接介紹 G2X – MV (Max Vision) 外觀上 MV 係 G2X 系列比較細小的,電筒身就使用 Polymer 物料,所以比較輕巧及耐用。 MV 燈杯方面便用 MVB (擴散形)燈杯,依款燈杯特別之處就...
Read more